Test Automation Services: Significant increase in demand for no-code and low-code platforms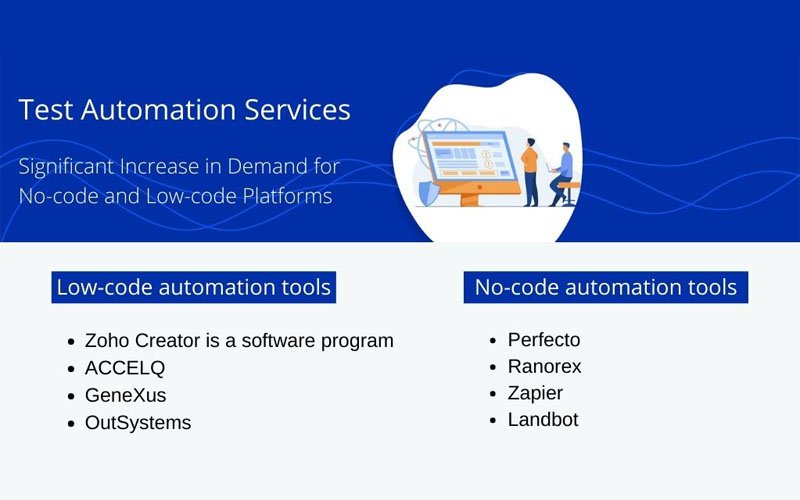 The use of a variety of no-code automation platforms, as well as low-code automation platforms, has increased in recent years, allowing developers to construct applications more quickly and effectively. In the worldwide technology market, they are often referred to as low-/no-code automation systems. The worldwide low-code automation platform market is estimated to reach US$45.5 billion in 2025. Meanwhile, the worldwide no-code automation platform market is predicted to reach US$68.05 billion by 2028.
As a result, developers must make use of a variety of no-code automation platforms and low-code automation platforms in order to enjoy the advantages of increasing consumer engagement levels. As a result of its extensive expertise in guiding customers on test automation and architecting their automation journey, Test Automation Companies generate the value you've been looking for via test automation for years in coding. Let's take a look at some of the top low and no-code automation platforms that are expected to be popular among the developer community in 2022.
Low-code automation tools that are the best in the business:
Zoho Creator is a software program
To assist developers in designing and developing commercial software in a timely and efficient manner, Zoho Creator is one of the most popular low-code automation systems available. With drag-and-drop pieces and more than 550 pre-built connectors, it is possible to create an app that runs on a variety of devices. It aids in the updating of CRM, emails, and real-time conversations analytics, among other things.
ACCELQ
Test automation and test management system in the cloud provided by ACCELQ, a popular low-code automation platform that is based on artificial intelligence (AI). It offers next-generation test management for manual and automated testing, as well as quality system integration, API and UI end-to-end validation, and a framework for writing automation in-sprint.
GeneXus
GeneXus is one of the greatest low-code automation systems available, offering a mix of low-code and artificial intelligence to assist in the creation and maintenance of applications on a fully automated basis. It contributes to the development of safe and omnichannel corporate apps for major platforms, as well as the development of new functionality for current business applications.
OutSystems
OutSystems is revolutionizing the way software developers construct software in order to produce and deliver vital applications that are compatible with the present company. It contributes to the improvement of the user experience while simplifying development procedures. In addition, it provides automation in the areas of new employee onboarding, order administration, a home banking portal, and a mobile self-service app.
No-code automation tools that are the best in the business
No-code tools aid in the rapid creation of code by reducing the amount of time spent manually coding. These No code Test Automation Services platform is useful not only for development but also for the rapid creation and deployment of applications.
Perfecto
No-code automation tool for developers to utilize for secure mobile and web testing in the cloud, Perfecto is a great choice. It contributes to intelligent automation, extraordinary experiences, and high-velocity testing, among other things. With the help of cutting-edge technology and knowledge, developers may overcome the most difficult testing issues.
Ranorex
Founded in 2012, Ranorex is a no-code automation platform dedicated to providing a comprehensive collection of automation capabilities while keeping expenses to a minimum. It aids with the automation and execution of tests for desktop testing, online testing, and mobile testing, among other things. Developers may assist DevOps, continuous integration, and continuous delivery processes by integrating test automation with tools like as TestRail, Jira, and others.
Zapier
Zapier is a well-known no-code automation tool that automates the movement of real-time data across online apps. It is free to use. When used along with other programs like Slack, Google Sheets, and Facebook Lead Ads, it aids in the integration, automation, and innovation of those tools. It provides 99.9 percent uptime to ensure that mission-critical procedures are completed effectively.
Landbot
Landbot is one of the most popular no-code automation systems for developers, allowing them to convert leads, record data, and customize client workflows in real-time without having to write any code. It aids in the conversion of additional traffic via the use of automated chats and increased conversion rates. Developers may use this no-code platform to create complicated conversational processes without the need for any coding by dragging and dropping components into place.
Final words
The finest Test Automation Services will enable professional developers to build applications considerably more quickly than they could with conventional coding, and with a level of control that is much more than is often seen in low-code environments.
I am Evan Gilbort work with Aegis Infoways as a software tester. I have vast experience in Test automation services, Software testing, Automation testing services & also do deployment of applications.